Letter from the Management Board
Dear Shareholders, Ladies and Gentlemen,
As a residential real estate company, Vonovia plays a central role in society. This explains why our activities are never focused exclusively on financial aspects, but also take social factors into account. We are aware of the special role that we play: As a service provider and the provider of homes for around one million people, our focus is on our customers and their needs. This is why we strive to maintain our building stock and make an active contribution to shaping neighborhoods. It is also why we are committed to offering contemporary apartments and developing services that offer better quality of living. Our focus on our customers is also the reason why we are addressing a social issue that is particularly important at the moment: the construction of new apartments.
Affordable housing looks set to remain in short supply in our conurbations in the future, too. There are no quick solutions to this challenge, as is the case for the other pressing issues faced by our society: Building communities of people from a whole range of different backgrounds isn't something that happens by itself. Age structures within our society are shifting: By 2030, we will need up to 3 million senior-friendly apartments in Germany. These are issues that each and every one of us has to address. And even though policymakers are setting climate objectives that I believe make sense, this is another area in which the concepts to implement the objectives in a cost-effective and, at the same time, socially responsible manner are often not entirely clear.
We can offer answers to these questions and want to help work towards the solution. But that will not be enough in itself. In everything that we do, we need partners and joint efforts.
Last year, we achieved an outstanding renovation rate of 5% in our portfolio. We are revamping our buildings in order to reduce heating costs and restrict CO2 emissions. This rate stands for contemporary living comfort, good levels of building efficiency and greater climate protection. We are committed to these efforts because they make sense from both a commercial and an ecological point of view. But because we want to take a whole range of different perspectives into account and also ensure that our rents remain affordable, we will be reducing the volume of energy-efficient building upgrades in the future and investing more in the construction of new apartments. As far as our future building upgrades are concerned, we will only be realizing projects that do not increase our customers' rents by more than € 2 per square meter.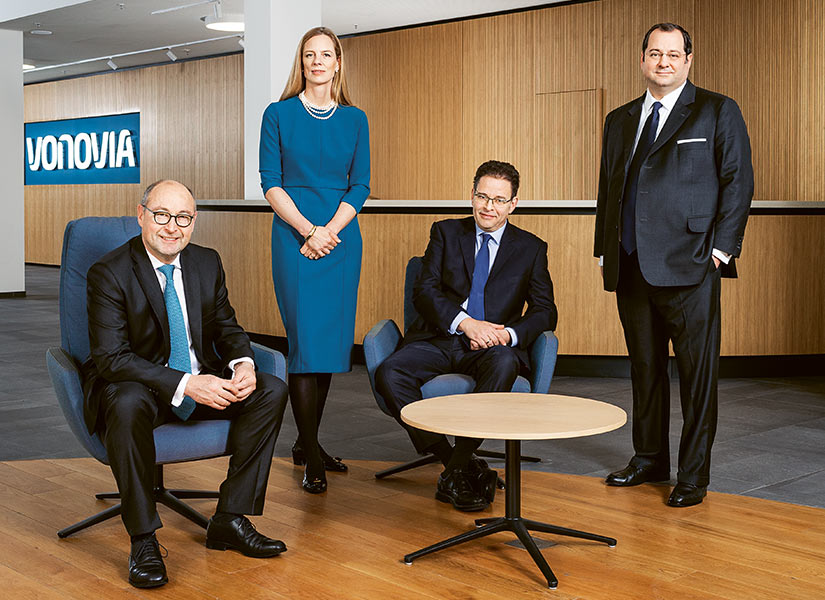 At the same time, we are developing solutions in order to further reduce CO2 emissions. These include state-of-the-art energy concepts, such as our own photovoltaic plants, or electromobility. We are also investing in neighborhood development to ensure that urban diversity is a success story and will be stepping up our investments in the construction of new apartments. These measures will create modern multifamily rental residences and, as of late, also condominiums.
Let's now take a look back at our operating performance over the last fiscal year: In 2018, we picked up exactly where we had left off in the previous years in terms of continuing with our good performance. We made good progress with our modernization and new construction measures. Our craftsmen's organization increased the range of services that it offers. The volume of business continued to increase in the areas of cable television, metering services, insurance and residential environment services as well. In a growing business area, Vonovia Immobilien Treuhand now manages around 84,000 apartments for other owners. We created a new business segment, energy supply, allowing us to supply our customers with renewable electricity and, in some cases, also with natural gas.
At the same time, we continued to make adjustments to our residential portfolio to reflect the regions that are strategically important to us. In terms of fair value, 98% of our German portfolio now belongs to our strategic holdings.
We believe that one of the opportunities open to us lies in using our business model to grow abroad – when the opportunity arises. This strategy paid off again in 2018: The acquisition of the Austrian company BUWOG and the Swedish company Victoria Park allowed us to increase the proportion of apartments located outside of Germany to more than 39,000 units, or just under 10% of our portfolio. We also acquired a minority stake in the purchase of 4,000 residential units previously held by the French railway operator SNCF. This will help us to better understand the French residential property market, too, in the long run.
In many of our discussions with you, we on the Management Board continually emphasize the fact that we only buy portfolios that are a good fit for us. These are portfolios that allow tenants to benefit from our business model and the services we offer. This certainly applies to the Austrian and Swedish markets. I am delighted that our shareholders and also the management teams of BUWOG and Victoria Park share our view and want to support our approach accordingly. But let me take this opportunity to stress that Germany will remain our core market.
Vonovia remains a success story in financial terms, too. Once again, all key figures showed an improvement as against the previous year. Our operating earnings, FFO 1, rose by 15.8% to € 1.07 billion. This was also helped along by income from the acquisitions and enhanced by additional income resulting from the investments made in the portfolio as well as in new construction and vertical expansion measures. The sustained high demand for housing is another driver of our success. It means that we have virtually no properties lying vacant, with a vacancy rate of 2.4%.
As far as our operating result is concerned, I would like to add that, as of this year, we have replaced FFO 1, the key figure previously used to measure our operating success, with Group FFO. This is because we have included the field of project development in our business with the acquisition of BUWOG. Project development includes the design and construction of new residential buildings for third parties and for our own portfolio on land specifically acquired for this purpose. Group FFO reflects this business area as well. In the context of the integration of BUWOG, we also revamped our management system and reorganized our segments. In addition to the three segments that you are already familiar with, we will also have a fourth segment in the future: Development. You can find details in this report in chapter Corporate Structure.
The market value of our portfolio increased significantly last year: The adjusted net asset value rose by 24.6% year-on-year to € 23.3 billion. Expressed per share, it increased by 16.7% to € 44.90. This encouraging development can be traced back to increased valuations and to the incorporation of the BUWOG and Victoria Park portfolios.
Our financing basis remains stable. Our debt coverage ratio remains within the target corridor and the debt maturity profile is balanced with long maturities. We remain committed to using a broad range of financing instruments so that we can cover our liquidity needs in a flexible manner at all times. In addition, we are still making use of the current low interest rate environment in order to replace expensive financing arrangements with better ones.
Dear shareholders,
My colleagues on the Management Board and I are delighted to be able to propose the distribution of an increased dividend of € 1.44 per share to the Annual General Meeting together with the Supervisory Board. Provided that the overall conditions allow, we want to offer the option of a stock dividend over and above the conventional cash dividend in the current year, too.
Together with our 10,000 or so employees, we will be using 2019 to once again demonstrate our firm commitment to supporting our customers and living up to our responsibility vis-à-vis society. This means that we will be listening carefully and collaborating with partners to find solutions.
We would once again like to thank you, our shareholders, our partners and our employees for the trust you have placed in us.
Bochum, Germany, March 2019
Sincerely,
Rolf Buch
Chairman of the Management Board (CEO)
Rolf Buch (CEO)
Fair Value
Valuation pursuant to IAS 40 in conjunction with IFRS 13. The estimated value of an asset. The fair value is the amount for which an asset could be exchanged between knowledgeable, willing parties in an arm's length transaction.
Vacancy rate
The vacancy rate is the number of empty units as a percentage of the total units owned by the company. The vacant units are counted at the end of each month.
Group FFO
Group FFO reflects the recurring earnings from the sustained operating business. In addition to the Adjusted EBITDA for the Rental, Value-add, Recurring Sales and Development segments, Group FFO allows for recurring cash-effective net interest expenses from non-derivative financial instruments as well as income taxes. This key figure is not determined on the basis of any specific international reporting standard but is to be regarded as a supplement to other performance indicators determined in accordance with IFRS.