Where the Future is Made
Climate change, digitalization, urbanization and demographic change are the megatrends that will shape the future of Vonovia. The Innovation & Business Building (I&BB) department at Vonovia takes a customer-centric and data-driven approach to the challenges of tomorrow, with a particular focus on carbon-neutral neighborhood housing.
Alexander Weihe
Head of Innovation & Business Building
"We don't use technology just because we find it so fascinating, but in order to create useful services for our customers. Whenever we develop innovations, we always follow the same principle: customer-centric on the outside, data-driven on the inside."
Alexander Weihe
Head of Innovation & Business Building
Dr. Isabel Ohlies
Head of Innovation Management
Innovation & Business Building
"Sometimes we also treat internal ideas like start-ups or new ventures. And once they're far enough down the line, we manage them as if they were a whole new business area."
Dr. Isabel Ohlies
Head of Innovation Management
Innovation & Business Building
Jana Tischendorf
Innovation Manager Neighborhood Systems
"Demand for electromobility has risen in recent years – this is why we want to electrify our portfolio quickly with public and private charging points."
Jana Tischendorf
Innovation Manager Neighborhood Systems
Maximilian Breß
Innovation Manager Business Building
"We want to develop simple digital services based on a proprietary platform. But in terms of hardware we are thinking about open systems and streamlined processes. Because too much smart home can often have the opposite effect."
Maximilian Breß
Innovation Manager Business Building
A Responsibility and an Opportunity
Long-term social, technological and environmental changes are having a significant impact on the housing industry. Customer requirements are changing, and so is the role of residential real estate companies going forward. Vonovia focuses on the neighborhood in everything it does. The neighborhood will play a decisive role in decentralized energy transition.
Vonovia has set itself a binding goal of making its building stock climate-neutral by 2050 as part of its climate action plan. At the first Climate Conference, held in partnership with the Fraunhofer Energy Alliance and the German Energy Agency (dena), Vonovia identified five action areas for the energy self-sufficient neighborhood of the future: renovation rates, renewable energy, systemic change, the power supply and mobility and tenants. We need to shore up our efforts in all of these areas with additional research and funding. And Vonovia needs good ideas for how it should shape the housing of tomorrow.
This is where the new Innovation & Business Building department comes in. Alexander Weihe and his team of 20 use a rigorous and clearly organized innovation process to develop new solutions that will deliver real added value in the future: for people, for society, and above all for the climate. For the employees involved, this means that their day-to-day work is as varied as it is inspiring. In order to find efficient answers to future challenges, they are looking beyond the company's current core business and developing completely new business models.
Innovation Neighborhood in Bochum-Weitmar
One of I&BB's most innovative research and development projects can be found in Bochum-Weitmar. With 1,540 apartments dating from the mid-twentieth century, the neighborhood is an innovative example of ecologically and economically efficient energy supply in action in an urban context. The project combines different technologies in novel and intelligent ways to reduce energy consumption and advance sector coupling, i.e., the integration of electricity, district heating and mobility. This neighborhood will also be home to the Power House of the Future, a transparent technology center that will supply energy for 81 apartments. It uses a wide range of innovative technologies, including an electrolyzer which uses electricity to produce hydrogen, fuel cells and heat pumps which cover 60% of the heating needs of buildings and households in the area with carbon-free heat from a local source. Vonovia generates 25% of the power required locally using its own rooftop photovoltaic systems. This pilot project is being carried out under the aegis of the Open District Hub, a research initiative headed up by a number of Fraunhofer Institutes. Vonovia is a founding member of the ODH.
New Ideas:

Innovation management (Generation and Initial Analysis of New Ideas for Products and Services)
New Business Areas:
Business Building
Development of Product and Service Ideas for Clients through to New Business
Neighborhood Systems
Research and Development of Solutions for Neighborhoods (e.g. heat, electricity, mobility)
Energy Production
Development of Solutions Focusing on Renewable Energies and Carbon Reduction
Verification & Acceleration:
Advanced Analytics
Advancing Data-driven User Cases with In-house Digital Data Science Expertise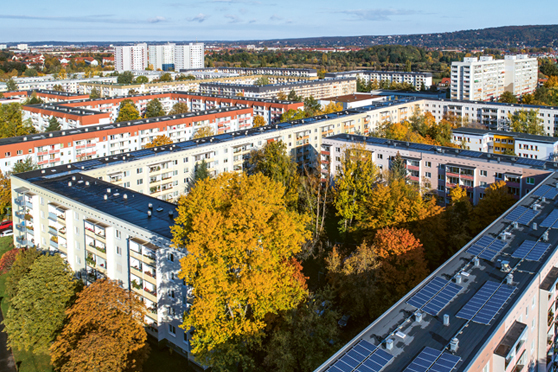 "1,000 roofs" Program
The innovation project we launched in 2019 is being rolled out. Vonovia will be installing photovoltaic systems on every suitable roof in the future. The intention is to use the energy generated by these systems as electricity for tenants in our neighborhoods.
Data Preparing the Way
Advanced data analytics facilitates innovation and speeds up the innovation process. The Advanced Analytics department was founded within I&BB for precisely this purpose. It uses cutting-edge algorithms to develop innovative methods for making more out of existing data. These methods include use cases, which make the process of managing modernization work in the neighborhoods even more efficient, and new scoring models that match the needs and individual situations of customers to available housing with greater precision and improve satisfaction levels. Of course, none of these would mean anything without our data protection and privacy system, which guarantees a high level of information security and is the key to broad acceptance.
Support for the "Energiesprong" Initiative
New refurbishment standard that represents a high level of living comfort, minimal refurbishment times and an innovative financing model
Target: refurbishment to net zero (energy produced = energy consumed)
First few pilot projects started
Extensive involvement in dena's "Volume Deal", a statement of intent by the housing and construction industry formulating its commitment to the serial refurbishment of more than 11,600 apartments over the coming four years
Transparent technology center supplies energy for
81 units
From idea to roll-out: the innovation process
Open Innovation – Developing the Future Together
From flat fee housing through to daycare services, I&BB has a wide range of ideas up its sleeve. But where do these ideas come from? And how do you make them into a reality? Dr. Isabel Ohlies is the Head of the Innovation Management team, and so primarily responsible for the iterative innovation process that begins with a targeted search for relevant trends and issues. Open innovation is the team's guiding principle. Inspiration and suggestions from outside the company are not only welcome; they are absolutely essential if Vonovia is going to come up with genuinely new and independent ideas.
One of the four methods used to generate ideas involves scouting the current start-up scene. The team frequently identifies potential collaborations with interesting start-ups in a variety of different sectors. These can range from simply using the services they provide all the way through to strategic partnerships or equity investments. Some partnerships go even further than that. Dynamic Components was a start-up with an exciting solution for monitoring lifts. We found them so impressive that the entire team was brought on board to continue driving this project and others as part of Vonovia Engineering.
New ideas also come from working closely with universities, research institutions and open ideation workshops. Employees from other departments are expressly invited to take part. Regional teams are playing an increasingly large role in these workshops due to their keen awareness of the needs and problems of their customers. Of course, the I&BB department also investigates strategic issues and topics which are suggested by other areas of the company.
Ideas for projects that make the grade are managed until they are ready to be put into practice. They are analyzed, worked out in detail and trialled. This is followed by a roll-out, where any final teething troubles are solved and products and services are continuously optimized until they work smoothly in practice. Then it's time to let go and hand them over to one of the operating departments. This is how our energy sales were successfully brought to market, for example.
Start-up Challenge
Vonovia and the Ruhr Founders Alliance called on start-ups to present their ideas for innovative, data-based solutions in April 2020. Participating start-ups had the chance to win prize money of up to € 20,000 and a three-month partnership with the company.
Mobility Concepts – Full Speed Ahead on Climate Action
Neighborhoods are a vital part of the mobility transition. I&BB wants to develop, test and implement mobility concepts for existing neighborhoods with municipalities and local stakeholders. One of its aims is to install 10,000 wallbox chargers for tenants by 2030.
For Jana Tischendorf, the innovation manager at I&BB responsible for mobility, it is particularly important to develop solutions tailored to the needs of individual neighborhoods. Each neighborhood has a unique set of challenges and features. She and her team are developing a range of scalable mobility concepts from which the regions can choose the one that fits them best, depending on their local needs. Concepts are implemented in close coordination with regional decision-makers. Local authorities also provide their input in some cases. All of the team's solutions have to be affordable and eco-friendly because the transport system of the future needs to be sustainable and accessible to all.
E-mobility as Part of Sector Coupling
The Power House of the Future pilot project in Bochum-Weitmar shows how electromobility can be linked intelligently with an energy management system. Vonovia is using its own research center to test how different energy sectors can be integrated together to distribute green energy to tenants when and where they need it. This includes powering charging points and wallbox chargers.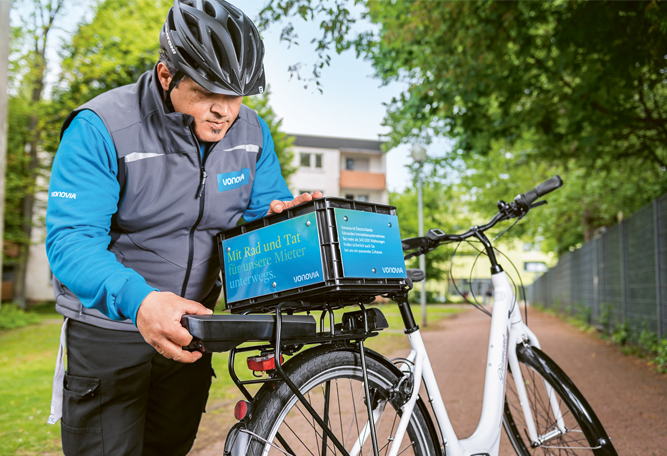 Setting a good example - many Vonovia employees use a traditional bike or an electric bike. More than 200 company bikes are already on the roads.
Wallbox on Request
Electromobility is an essential part of the energy revolution. Electric mopeds, electric scooters and electric cargo bikes: One important way of getting environmentally friendly transport into local neighborhoods is to provide simple car and bike-sharing models. I&BB is already trailing some cutting-edge schemes in this area in partnership with service providers.
The targeted expansion of our charging infrastructure also has a crucial role to play. In addition to driving the installation of fixed charging points available to the general public, Jana Tischendorf is also committed to making private solutions easier to access. Tenants with their own parking space can get a wallbox on request and pay for their electricity through Vonovia. But I&BB is already thinking about how to take the whole concept of mobility one step further. The long-term goal is to use electricity generated in the neighborhood for charging. Vonovia is due to run a trial scheme in Bochum-Weitmar to research efficient ways to integrate electricity, heat and electromobility.
New Business Models – No Shortage of Ideas
Maximilian Breß appreciates how varied every day is at the Vonovia Business Building department, and how his work frequently deals with issues which you wouldn't normally associate with the real estate sector. As an innovation manager, he is responsible for the content and organization of projects which focus on digitalization, smart homes and health. And it is no coincidence that they are all connected to one another.
His vision is for tenants to be able to manage all kinds of things in their household or the neighborhood using a single Vonovia app or platform in future. Like the digital parcel box, for example.
Another Idea: a Digital Laundry Room
Anyone who doesn't have their own washing machine in their apartment can use an app, web browser or telephone hotline to book a time slot to use a communal washing machine, with the fee being billed automatically. All made possible through a partnership with WeWash.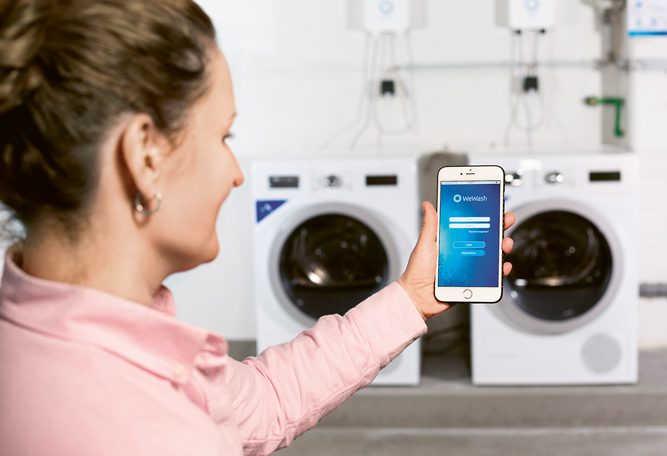 Smart Parcel Service for the Neighborhood
Maximilian Breß ran a pilot project in Berlin, Aachen and Dortmund to see how Vonovia could make it even more convenient for tenants to have parcels delivered to their home. This pilot scheme involved setting up open-system digital parcel boxes in neighborhoods which can be accessed by both big logistics companies and smaller delivery services. This also means that parcels are just the beginning. Taking the idea a step further, the local community could also use the boxes as a digital system for exchanging goods. A car repair shop could use them to return car keys, or neighbors could use them to lend each other books. Or Vonovia could put tools there for new tenants to use as part of a moving-in service.
Assistance for the Elderly
Vonovia is also looking at ways to encourage assisted living and senior-friendly apartments in neighborhoods. A digital assistance service could use a voice-user interface to give elderly people the security of knowing that they are not alone in an emergency. This system would automatically notify a nominated contact or the emergency services if the tenant had a fall or something else unexpected happened. It is exciting to think that, at some point in the future, tenants could use the same platform to control their heating, open or close their digital door lock and enjoy games and quizzes to keep their minds alert and have fun. And all in such a user-friendly package that is easily accessible, even for the over-80s.